Air Conditioning System Check

Having your cooling system serviced before the hotter months of the year is a great idea. During our check, We are able to identify any problems that may affect your system's efficiency or cooling capacity. This service entails a thorough inspection of each and every component of your air conditioning system.
---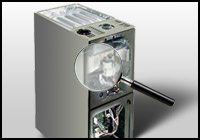 Heating System Check

Just like the A/C check, it is important to have your heating system inspected before the winter season. Our heating system check includes a thorough inspection of your complete heating system including the detection of carbon monoxide and gas leaks.
---

Indoor Air Quality Consultation.


We have invested an immense amount of time and money on training our technicians to be proficient in the detection of indoor air quality issues. Our technicians receive training, consulting and support from the most qualified indoor air quality company in North America, The Comfort Institute.
---
Preventative Maintenance Programs

A Preventative Service Agreement (P.S.A.) is a great way to maintain your air conditioning and heating system while receiving discounts and other advantages. Our P.S.A. consists of 2 visits a year where a 25 point inspection will be performed on your system. These inspections ensure your system is operating at peak performance and identify any potential problems.
---
24/7/365 Service

We employ an on-call staff consisting of a manager and two factory trained technicians to take care of our customers during weekends, after-hours and holidays. Our technicians carry $5,000 worth of parts on every service truck to ensure we can finalize the repair on the first visit in most cases.
---
Residential and Commercial Service & Installation

We have been providing professional service and installation to homes and businesses in your area for almost 3 decades. Our factory certified technicians and installers are trained to provide exceptional service in any setting.
---
Remote Camera Capability

We use remote cameras to detect problems behind walls, inside air ducts and many other hard to reach areas. Using these remote cameras, we are able to thoroughly inspect your system and spot problems others may have missed.
---
We Sell/Service All Brands

We have been around for more than 25 years and have a wealth of experience with each and every brand of air conditioning and heating equipment available in Texas.